When she's loaded down with fish till the water lips the gunwale
Not a drop she'll take on board her that would wash a fly away;
From the fleet she'll slip out swiftly like a greyhound from her kennel
And she's land her silver store the first on old Kinvara quay
The Queen of Connemara – Francis Fahy, 1854-1935.
Before gas and electricity came to Kinvara turf was the main fuel used for cooking and heating. The majestic Galway Hookers sailed between Connemara and Kinvara laden with this fuel as the Kinvara area has no bogs. Kinvara in turn filled the hookers with grain and produce for their return journey. A strong trade developed between the two regions using these great old cargo boats.
Cruinniú na mBád, Kinvara was founded by Tony Moylan in 1979 as a celebration of the traditional commerce that existed between the coasts. In August at Kinvara you can see the mighty Hookers in action once again. Some of the vessels are over 150 years old, others newly built. Many of the families who sail the hookers have been doing so for generations – the O'Brien's, Bailey's and McDonaghs and the Jennings and Joyces are old hands at sailing these traditional craft. The Caseys, Clohertys and Mulkerrins built hookers at Mweenish, and the Brannellys and Keanes constructed the vessels in Kinvara.
Visitors to the Cruinniu can see other types of craft sailing and competing with each other in Kinvara Bay.
Currach
races are very popular. Currachs are traditional rowboats orginally constructed with animal skin stretched over a wooden frame. The style can vary according to the part of the country in which it was built. They are light on the water and, as the races prove – they are extremely fast.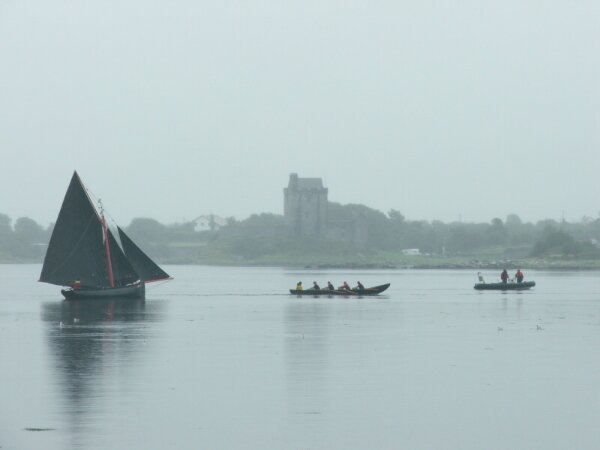 Climín
races are another highlight of Cruinniú na mBád, Kinvara. A Climín is a 'raft' made from seaweed blocked and tied for transportation to a collection point on the shore. Seaweed harvesting was once a thriving industry along the west coast of Ireland, including Kinvara.
When the Climíns were brought to the collection point the seaweed was loaded on lorries and taken to Kilkieran in Galway where it was processed.
Collecting and processing the seaweed was labour intensive but provided a good source of income for the local community. Seaweed and seaweed extracts are still used used in food (ice-cream), toothpaste, cosmetics, medicine and as a fertiliser. Check our new site here!